Beginner to Advanced
From the youngest member of your family to the oldest. Blow Me Down's Nordic ski trail network is a winter playground for cross country skiers and snowshoers of all abilities and ages.
42 km trail network groomed and track set for classic and skate skiing

6.5 km of trails lit for night skiing

Snowshoe on the side of all trails

5km of dedicated snowshoe trails through wooded areas

Biathlon range with 16 working lanes

Fat Biking on selected trails on designated nights
Hours of Operation
Ski Season Hours of Operation:
(*only locker room portion of lodge open on Monday nights. Canteen area closed.)
Weather Report
Blow Me Down Trails is located in a snow belt and the weather is changeable. Snow and grooming conditions vary throughout the day as the weather changes, so it's always a good idea to come prepared for all sorts of weather, but this link will help you plan:
Junior and Senior Biathlon Range
The Blow Me Down Trails Biathlon Range is home to a growing youth biathlon program. The range has 16 working lanes, which are 50 metres from the firing lane. Senior program participants use .22 rifles, while the Biathlon Bears youth program participants use smaller targets at a shorter distance and fire a Daisy pellet gun.
Anyone using the Biathlon Range must be a member of the biathlon club and there must be a minimum of two people present.
If the flags are flying in the Biathlon Range, it means it is in use.
View more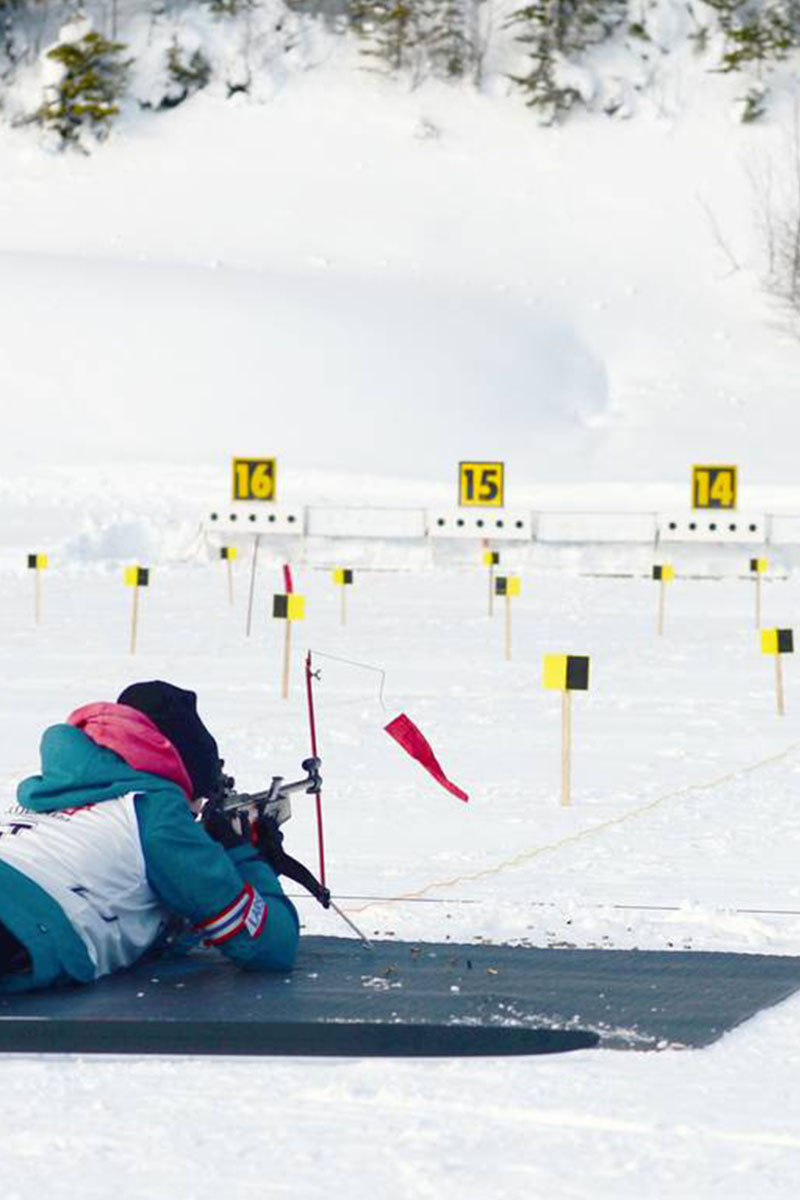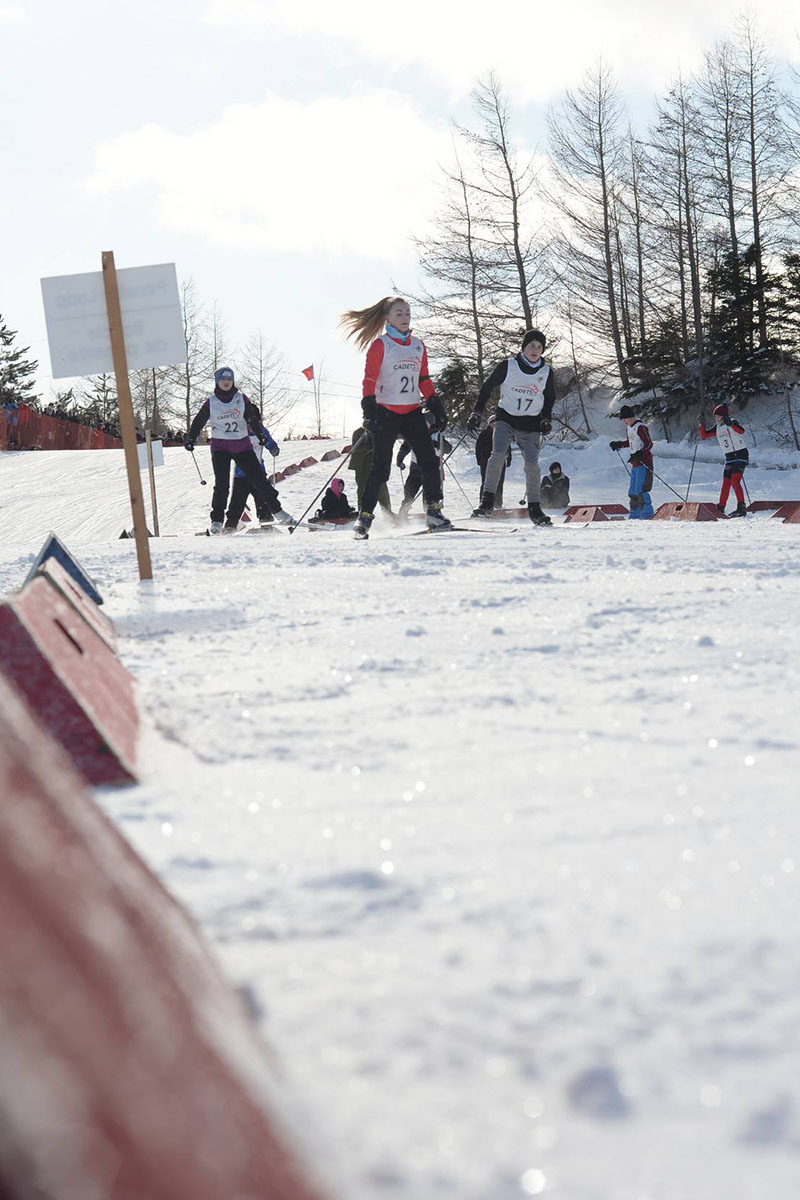 Trail Etiquette & Safety
Blow Me Down Trails is a multi-sport facility, which means classic cross country skiers, skate skiers and snowshoers share the trail network. Please follow this etiquette when you're out on the trails so everyone stays safe and has fun.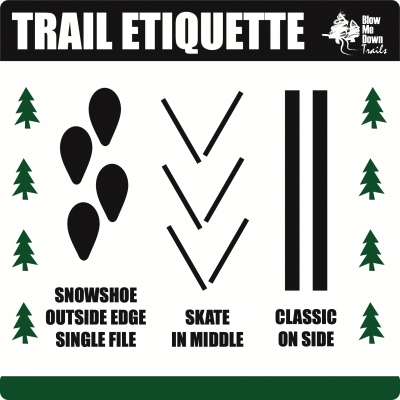 Cross country skiing and snowshoeing involve risks, dangers and hazards but we can all work together to make sure everyone stays safe.
For medical or emergency assistance while you're at Blow Me Down Trails, please call one of the following numbers:
Lodge: (709) 639-2754
Emergency Services: 911
Here are some things to think about when you hit the trails:
Be aware of changing weather conditions
plan ahead for variations in the weather
Dress appropriately and bring extra layers
warmth and visibility are key to your safety
Cold temperatures increase the risk of frostbite.
Dress warmly, keep an eye on exposed skin, and go inside right away if skin begins to turn white
UV rays are reflected from the snow surface
it's a good idea to wear sunscreen and sunglasses
Be aware of the snow conditions
and how they change your speed and ability to stay in control
Stay hydrated and fuelled
carry water and a snack, especially if you're planning a longer outing
Don't over do it
stick to trails suited to your ability and be aware of fatigue
Pay attention to where you stop on the trail
when you need to rest, move over to the side so others can pass
Groomers and snowmobiles may be on the trails during operating hours
give them plenty of space
In addition to other people and machines
you might encounter wildlife like moose and caribou (if you're lucky!) Give them lots of space too
Watch for hazards
like exposed rock, ice, tree stumps and forest deadfall
Watch for streams, brooks, and exposed holes
in the snow pack above streams or brooks, especially in the spring
If the flags are flying in the Biathlon Range
it means it is in use and not open to the skiing public
Anyone using the Biathlon Range
must be a member and there must be a minimum of two people present
Cross Country Ski Responsibility Code
There are elements of risk that common sense and personal awareness can help reduce. Regardless of how you decide to use the trails, always show courtesy to others. Please adhere to the code listed below and share with others the responsibility for a safe outdoor experience.
1
Always Check posted trail conditions
Always check posted trail conditions
2
Ski in the direction indicated
ski in the direction indicated and obey all posted signs and warnings. Keep off closed trails
3
Always ski to the right
Always ski to the right when meeting on-coming skiers and when skiing on double track
Yield the track to faster skiers and skiers calling 'track'
Ski in control On two-way trails, descending skiers have the right-of-way
Do not stop where you obstruct a trail or are not visible to others. Move off the track quickly if you fall or during rest stops
Do not litter Take out what you pack in. Respect all property
Trail Ratings
Blow Me Down Trails uses a standardized colour/shape rating system to indicate the difficulty level of individual trails. Each trail is rated according to its relative difficulty when compared with other trails at Blow Me Down.
Factors that determine a trail's rating include:
SLOPE GRADIENT | TRAIL WIDTH | NORMAL SNOW CONDITIONS | FREQUENCY OF GROOMING
We recommended that all skiers work their way up from an easy trail to become familiar with the rating system.